I'm proud to introduce Beekeeper Studio's first paid features - Team Workspaces.
A workspace provides cloud storage for queries and connections so that you can use them across multiple machines or share them with your team.
I built team workspaces to scratch a specific itch. Up until today, switching machines meant losing all of your Beekeeper Studio queries and connections. Personally, I need to work across multiple machines, sometimes in collaboration with other people. Workspaces let me (and you) do that easily 🎉.
As always, thank you so much for your support so far. Trying to build a sustainable open source desktop app as a solo-hacker is hard work, but the super positive comments and great feedback makes it worth it.
On the pricing side - Workspaces are bundled as a free feature of Beekeeper Studio Ultimate Edition, which comes with other useful features, and a totally free 14 day trial, no credit card required.
How Workspaces Work
When you open Beekeeper Studio Ultimate Edition you'll see a new toolbar on the left hand side. You can create and manage your workspaces right from here.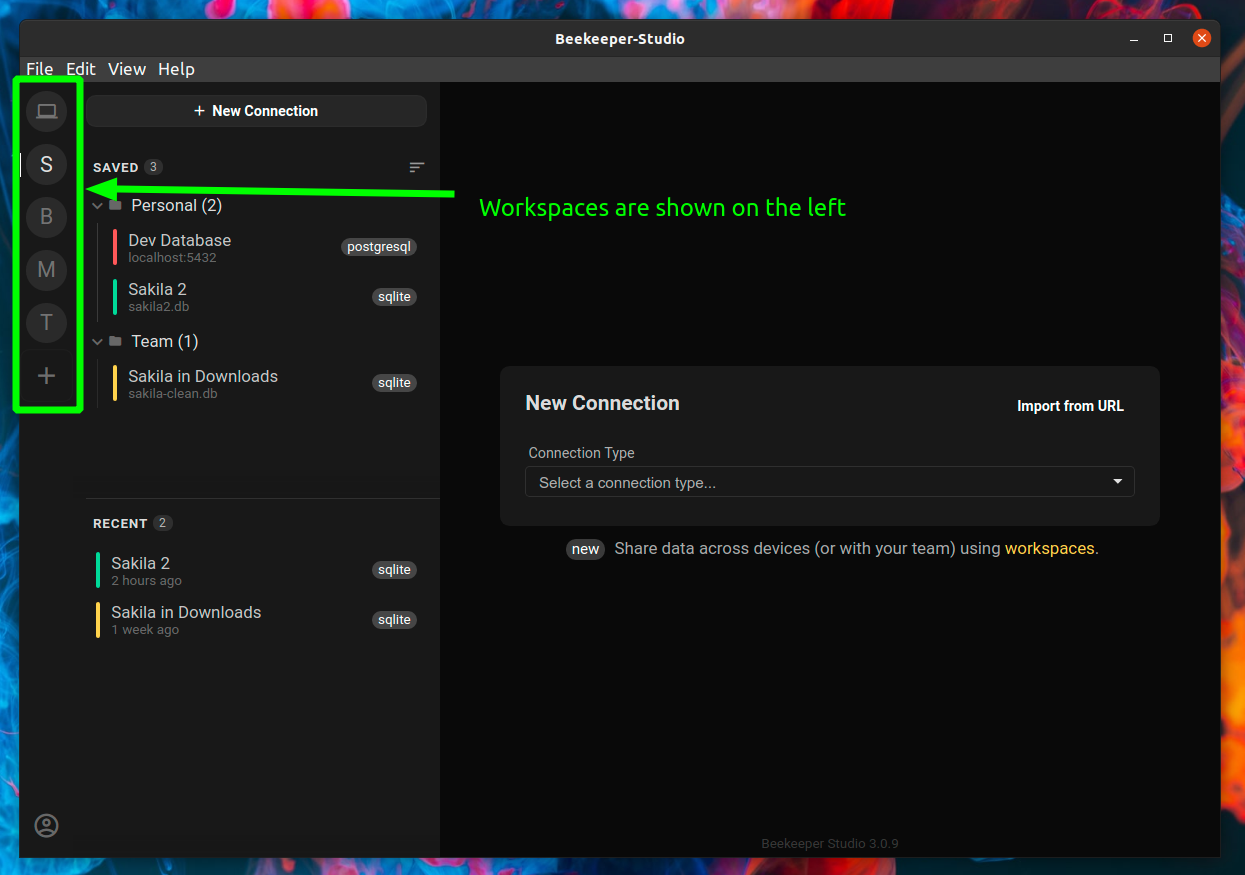 Once you click on a workspace, Beekeeper Studio works the same as it always did, with one big change – queries and connections you save here are saved to the cloud rather than your local machine, so you can access them wherever you are.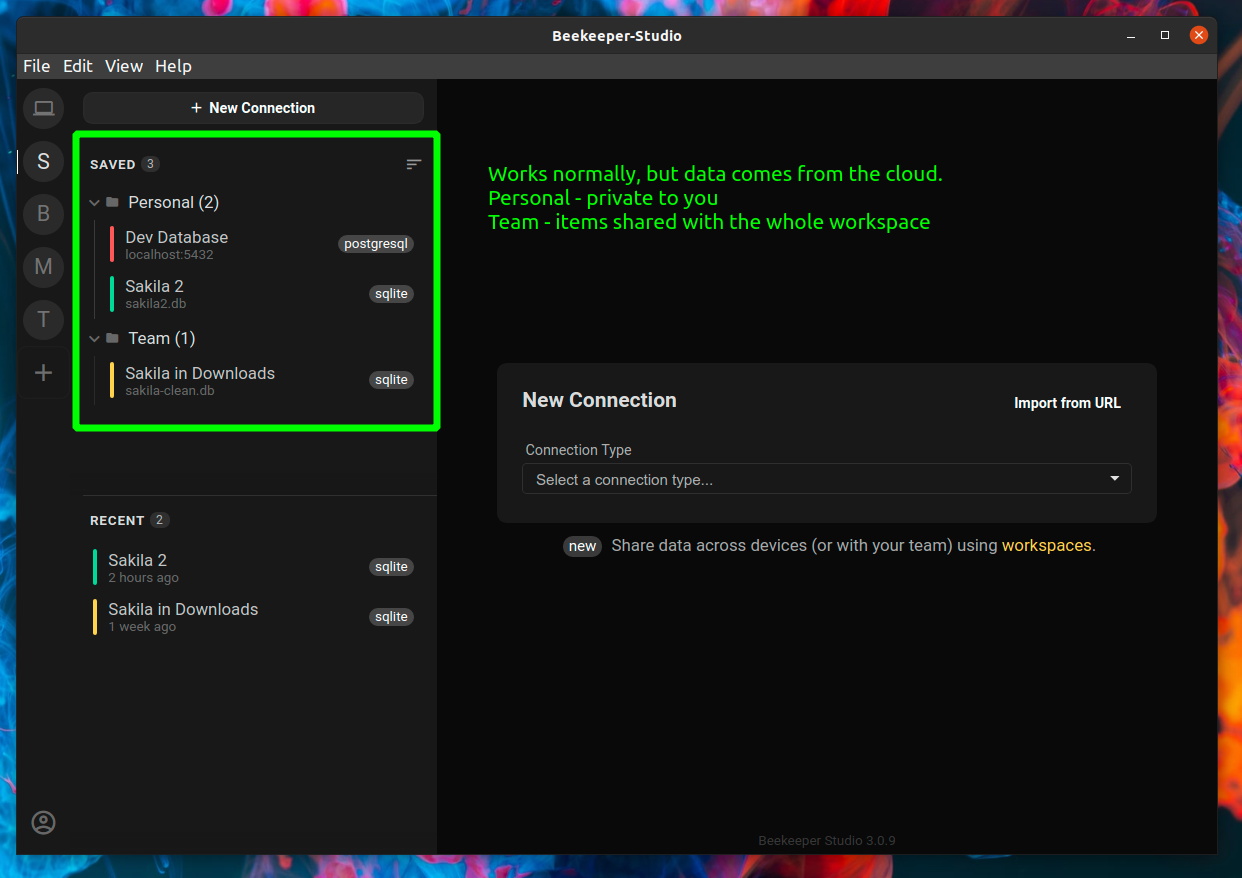 You can share connections and queries with other members of your team by clicking 'manage workspace' and sending them an invitation.
If the UX looks familiar, well that's because we stole borrowed ideas from apps you probably use already, so hopefully you feel right at home.
Team Workspaces Are Smart
As a workspace user there are a few smart tricks that the app uses to make sure you're working well with your team.
Three Way Merging
If you're working on a query, and someone else edits it, you'll be asked how you want Beekeeper to handle the change.
One of these options is an automated three way merge, which helps to ensure that both the local and remote changes persist nicely.
Alternatively you can always choose to discard either the local or remote changes.
Keep it Personal, Or Not
Team workspaces provide you with two areas to store assets
Your personal folder stores your assets in the workspace, but they are not visible to other workspace users.
Your team folder is shared between all workspace members
You can easily move queries and connections between the two.
Migrating to Workspaces
If you already have a bunch of queries and connections saved in your local workspace, they're just a click away. Click the import button above either the query list or the connection list and choose which items to import.
Sustainability
Beekeeper Studio is used by thousands of people around the world every single day.
There is so much opportunity for innovation in the database GUI market, but without a dedicated development team, those opportunities will go unmet by Beekeeper Studio.
The best way for me to sustain Beekeeper is by generating revenue.
Now, there are many ways to charge for an app like Beekeeper Studio, I've been careful to choose an approach that I don't think compromises our core mission.
By bundling team workspaces with the Ultimate Edition, I can provide a lot of value with a simple pricing structure that doesn't require a huge subscription.
Available Now
Workspaces are available now in the Beekeeper Studio Ultimate Edition app. You'll see them when you open the app front and center.
If you don't need any of our paid features, that's cool, nothing about the app will change for you.
Download Ultimate Edition Today
---